SAPPL03 Sapphire Electronic Projector in Ceiling Lift For Large Projectors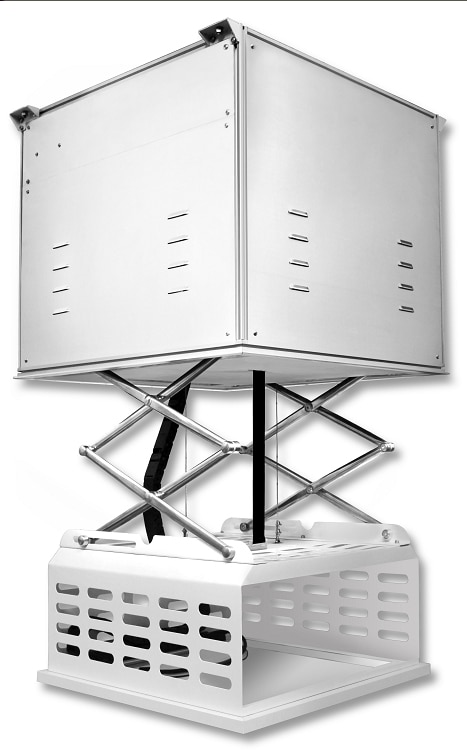 Sapphire AV SAPPL03, Ceiling, 18 kg, White, Aluminium, Electric, CE,ROHS
Product Details
Sapphire Electronic Projector Lift.
We think this is the best lift on the market with so many features designed to make installation a breeze. Impress everyone when your projector appears out of the ceiling as if by magic. Built in cable management and of course being a Sapphire product you get the legendary three year warranty as standard.
– Cable Management
– Control System ready for RS232 and Closed Contact
– Maximum Weight Capacity: 18KG
– Comes with a wireless remote control and you can set the cage drop easily from this. Set it once and it will always stop in the same position.
– Simply plug in and connect your wires. Built in VGA and phone with hole to enable you to easily fit your HDMI cables.
Technical Spec
| | |
| --- | --- |
| Mounting type | Ceiling |
| Product colour | White |
| Cable management | Yes |
| Height adjustment type | Electric |
| Width | 704 mm |
| Depth | 770 mm |
| Base length | 68.6 cm |
| Package width | 750 mm |
| Package height | 680 mm |
| Manual | Yes |
| Screwdriver included | No |
| Quantity per pack | 1 pc(s) |
| Products per pallet (EU) | 1 pc(s) |
| Pallet gross length | 120 cm |
| Pallet gross height | 68 cm |
| Pallet weight (UK) | 53 kg |
| Pallet width (UK) | 100 cm |
| Master (outer) case length | 750 mm |
| Minimum order quantity | 1 pc(s) |
| Maximum weight capacity | 18 kg |
| Housing material | Aluminium |
| Height adjustment | Yes |
| Certification | CE,ROHS |
| Height | 600 mm |
| Base width | 58.6 cm |
| Weight | 48 kg |
| Package depth | 750 mm |
| Package weight | 53 kg |
| Remote control included | Yes |
| Remotely operated | Yes |
| Harmonized System (HS) code | 83024190 |
| Pallet gross weight | 53 kg |
| Pallet gross width | 100 cm |
| Products per pallet layer | 1 pc(s) |
| Products per pallet (UK) | 1 pc(s) |
| Pallet length (UK) | 120 cm |
| Pallet height (UK) | 68 cm |
| Master (outer) case width | 750 mm |
| Master (outer) case height | 680 mm |
| Shipping (inner) case width | 75 cm |