Sapphire Electric Screen 4491 x 3368mm 4:3 RF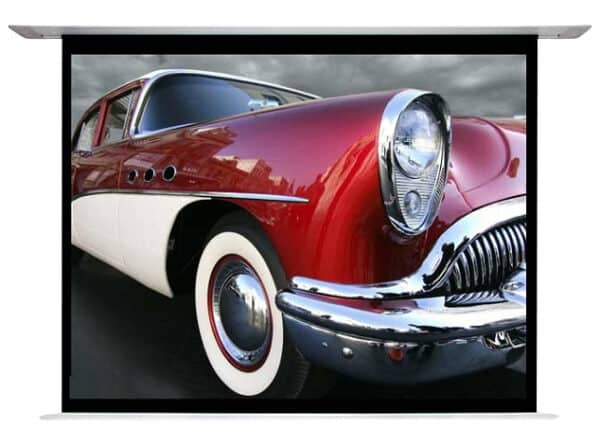 Solstice AV Code:

SEWS450BV
Sapphire AV SEWS450BV, Motorized, 5.61 m (221″), 4.49 m, 3.37 m, 4:3, Matte White
Product Details
Sapphire Mayfair projector screen with radio frequency remote control
The Sapphire Mayfair range of projection screens are truly a work of art. We use only the best quality materials and each one is tested at length before leaving the factory.
Although it is difficult to convey the screen quality online. The triple laminated glassfibre surface is designed to lay flat with no curls extending into the viewing area. The gain is 1:1 which we consider best for modern projectors which have plenty of brightness. The viewing angle is very wide and the black border all around marks the image and improves your perception of the contrast ratio.
The screen fabric has black backing meaning you can place the screen in front of a window and no light will come though the projector screen fabric.
The price of Sapphire Screens is comparable with many lower quality offerings. We put our faith in the product by offering a three year warranty – this will give you complete piece of mind. Make sure you consider this important aspect before buying an inferior product.
All Sapphire Mayfair projection screens come with a remote control. This model has an inline switch and radio receiver box around 1.3m from the casing. There is a further 1.3m of cable to a plug the other end of the control box. It will operate at up to 30 metres in the right conditions. Unlike IR, radio does not require line of sight.
In situations where you want to fit an inline switch or connect this to a 240v relay then the RAD screen in the one to buy -not the infra red as it has four core wires to the inline box (earth,neutral,live drop, live retract). Should you want an RS232 solution from Sapphire, you need to buy the screens ending with ATR and an optional module.
Technical Spec
| | |
| --- | --- |
| Diagonal | 5.61 m (221") |
| Viewable screen height (H) | 3.37 m |
| Drive type | Motorized |
| Frequency range | 868 Hz |
| Format | Video |
| Screen gain | 1.1 |
| Country of origin | China |
| Mounting type | Ceiling/wall |
| Black drop | 8 cm |
| Product colour | White |
| Material | Steel |
| Input voltage | 230 V |
| Width | 4836 mm |
| Height | 180 mm |
| Dimensions folded (WxDxH) | 4836 x 140 x 180 mm |
| Package width | 5250 mm |
| Package height | 180 mm |
| UN number | WW/BA0104WV |
| Manual | No |
| Battery weight | 11.5 g |
| Master (outer) case width | 250 mm |
| Harmonized System (HS) code | 90106000 |
| Native aspect ratio | 4:3 |
| Viewable screen width (W) | 4.49 m |
| Diagonal (metric) | 561.34 cm |
| Remotely operated | Yes |
| Screen surface | Matte White |
| Tensioned screen | No |
| Viewing angle | 160° |
| Certification | CE, ROHS |
| Black backing | Yes |
| Borders | 5 cm, Yes |
| Easy to install | Yes |
| Case colour | White |
| Power | 253 W |
| Input current | 1.1 A |
| Depth | 140 mm |
| Weight | 58.8 kg |
| Quantity per pack | 1 pc(s) |
| Package depth | 250 mm |
| Package weight | 66.3 kg |
| Remote control included | Yes |
| Batteries included | Yes |
| Number of battery cells | 2 |
| Master (outer) case length | 5250 mm |
| Master (outer) case height | 180 mm |
| Shipping (inner) case width | 25 cm |