Netgear XSM4324-100NES Half-Width 12x10G/Multi-Gig and 12xSFP+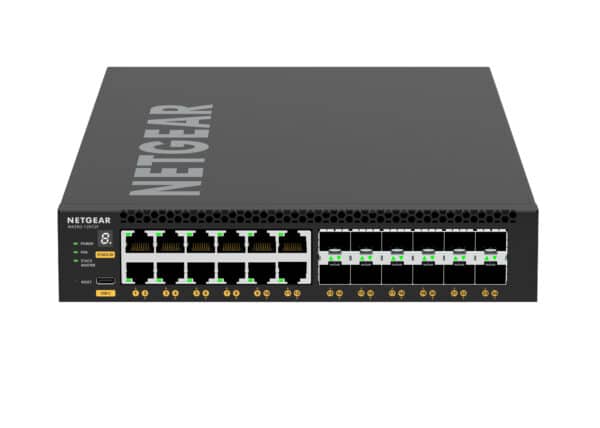 Solstice AV Code:

XSM4324-100NES
NETGEAR M4350-12X12F, Managed, L3, 10G Ethernet (100/1000/10000), Full duplex, Rack mounting, 1U
Product Details
POWER AND THROUGHPUT
Edge to core stackable platform, from 1 Gigabit to 100 Gigabit, all within 15.75in (40cm) of depth.
Groundbreaking AV GUI
A simplified user interface makes it easy to assign configuration profiles to each port.
Multicast in an Instant
NETGEAR IGMP Plus™ provides multicast functionality right out of the box for most AV over IP applications.
Sleek, Quiet Design
Less fan noise, and mounting ears included for rack mounting.
Automatic Configuration
Auto-trunk and auto-LAG functionality auto connects with other M4350 (and M4250) switches.
FAST, EASY CONFIGURATION FOR AV PROS
A streamlined interface enables factory default AV settings or user-specified AV profiles to be assigned to individual ports with just a few clicks.
FOCUS ON THE EVENT NOT FAN NOISE
Most models have quiet mode which greatly reduces fan noise.
DESIGNED FOR AV OVER IP RIGHT OUT OF THE BOX
With built-in NETGEAR IGMP Plus™, there's little-to-no setup required for flawless Video over IP delivery. Enable multicasting right out of the box.
Technical Spec
| | |
| --- | --- |
| Switch type | Managed |
| ARP inspection | Yes |
| SFP+ module slots quantity | 12 |
| Networking standards | IEEE 802.1D, IEEE 802.1Q, IEEE 802.1Qav, IEEE 802.1s, IEEE 802.1w, IEEE 802.1x, IEEE 802.3, IEEE 802.3ab, IEEE 802.3ad, IEEE 802.3ak, IEEE 802.3bz, IEEE 802.3u |
| Full duplex | Yes |
| Flow control support | Yes |
| Broadcast storm control | Yes |
| Spanning tree protocol | Yes |
| IPv4 routes | 512 |
| VLAN support | Yes |
| Number of VLANs | 4093 |
| Switching capacity | 480 Gbit/s |
| Store-and-forward | Yes |
| Latency (10 Gbps) | 2.29 µs |
| Jumbo frames | 12000 |
| DHCP features | DHCP Option 150, DHCP Option 66, DHCP Option 67, DHCP relay, DHCP server, DHCP snooping |
| IGMP snooping | Yes |
| MAC address filtering | Yes |
| Loop protection | Yes |
| Authentication | Guest VLAN, MAC-based authentication |
| Password protection | Yes |
| Authentication type | RADIUS, TACACS+ |
| Multicast support | Yes |
| Management protocols | SNMP V1, V2, V3 |
| Routing protocols | OSPF, OSPFv2, OSPFv3, RIP, RIP-1, RIP-2 |
| Stackable | Yes |
| Product colour | Black |
| Airflow direction | Front-to-back airflow |
| Processor model | ARM Cortex-A57 |
| Memory type | DDR4-SDRAM |
| Flash memory | 512 MB |
| Power source | AC |
| Power consumption (typical) | 95.8 W |
| Operating temperature (T-T) | 0 – 50 °C |
| Operating altitude | 0 – 3000 m |
| Width | 220 mm |
| Height | 43.2 mm |
| Cables included | AC, USB Type-C |
| Rack mount kit | Yes |
| Sustainability compliance | Yes |
| Power supply | 240 W |
| Switch layer | L3 |
| Web-based management | Yes |
| Power connector | AC-in jack |
| 10G support | Yes |
| Policy-based routing | Yes |
| Link aggregation | Yes |
| Rate limiting | Yes |
| 6to4 tunnel | Yes |
| IPv6 routes | 256 |
| Virtual LAN features | MAC address-based VLAN, Private VLAN, Voice VLAN |
| MAC address table | 16000 entries |
| Throughput | 357.12 Mpps |
| Latency (1 Gbps) | 2.14 µs |
| Jumbo frames support | Yes |
| Packet buffer memory | 32 MB |
| Access Control List (ACL) | Yes |
| IGMP proxy | Yes |
| Static port security | Yes |
| BPDU filtering/protection | Yes |
| Root protection | Yes |
| DoS attack prevention | Yes |
| Queue scheduling algorithms | Strict Priority Queue (SPQ), Weighted random early detection (WRED) |
| Rack mounting | Yes |
| Form factor | 1U |
| LED indicators | Yes |
| Built-in processor | Yes |
| Processor frequency | 1800 MHz |
| Internal memory | 2048 MB |
| sFlow | Yes |
| Power supply included | Yes |
| Power over Ethernet (PoE) | No |
| Storage temperature (T-T) | -20 – 70 °C |
| Non-operating altitude | 0 – 3000 m |
| Depth | 400 mm |
| Weight | 4.3 kg |
| Quick start guide | Yes |
| Included power plug types | EU, UK, NA |
| Sustainability certificates | BSMI, CCC, CE, Federal Communications Commission (FCC), Low Voltage Directive (LVD) |