Netgear GSM4212P-111EUS M4250-10G2F-POE+ & AVB4212P LICENSE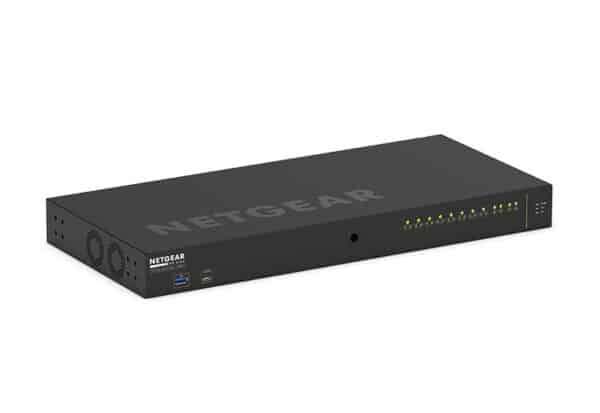 Solstice AV Code:

GSM4212P-111EUS
NETGEAR 8x1G PoE+ 125W 2x1G and 2xSFP Managed Switch, Managed, L2/L3, Gigabit Ethernet (10/100/1000), Power over Ethernet (PoE), Rack mounting, 1U
Product Details
Designed with input from industry professionals, this switch is engineered for 1G AV over IP. Enjoy rear-facing ports that ensure a clean integration in AV racks, and pre-configuration for out-of-the-box functionality.
POWERFUL AV SWITCHES MADE SIMPLE
Pre-configured to get you up and running faster
Groundbreaking AV GUI
A simplified user interface makes it easy to assign configuration profiles to each port.
Multicast in an Instant
NETGEAR IGMP Plus™ provides multicast functionality right out of the box for most AV over IP applications.
Sleek, Quiet Design
Less fan noise, and mounting ears included for under-table or wall mounting.
Automatic Configuration
Auto-trunk and auto-LAG functionality auto connects with other M4250 (and M4300) switches.
FAST, EASY CONFIGURATION FOR AV PROS
A streamlined interface enables factory default AV settings or user-specified AV profiles to be assigned to individual ports with just a few clicks.
FOCUS ON THE EVENT NOT FAN NOISE
Most models have quiet mode which greatly reduces fan noise, and some models are even fanless.
DESIGNED FOR AV OVER IP RIGHT OUT OF THE BOX
With built-in NETGEAR IGMP Plus™, there's little-to-no setup required for flawless Video over IP delivery. Enable multicasting right out of the box.
REFINED DESIGN PROVIDES MOUNTING FLEXIBILITY
Clean lines and port activity status is featured in the front of the switch, while cabling is neatly in the back. Universal mounting options allow VESA mounting or in standard racks.
Technical Spec
| | |
| --- | --- |
| Switch type | Managed |
| Networking standards | IEEE 802.1D, IEEE 802.1Q, IEEE 802.1ab, IEEE 802.1s, IEEE 802.1w, IEEE 802.1x, IEEE 802.3ad, IEEE 802.3af, IEEE 802.3at, IEEE 802.3bt, IEEE 802.3x |
| Full duplex | Yes |
| Broadcast storm control | Yes |
| Spanning tree protocol | Yes |
| Virtual LAN features | MAC address-based VLAN, Private VLAN, Protocol-based VLAN, Tagged VLAN, Voice VLAN |
| MAC address table | 16000 entries |
| Throughput | 17.86 Mpps |
| Latency (1 Gbps) | 2.27 µs |
| Access Control List (ACL) | Yes |
| SSH/SSL support | Yes |
| BPDU filtering/protection | Yes |
| Authentication type | RADIUS |
| IPv4 multicast entries | 2000 |
| Rack mounting | Yes |
| Product colour | Black |
| Built-in processor | Yes |
| Processor frequency | 1250 MHz |
| Noise level | 30.06 dB |
| Power over Ethernet (PoE) | Yes |
| Operating temperature (T-T) | 0 – 50 °C |
| Operating altitude | 0 – 3000 m |
| Heat dissipation | 559.555 BTU/h |
| Depth | 200 mm |
| Weight | 2.85 kg |
| Manual | Yes |
| Switch layer | L2/L3 |
| SFP+ module slots quantity | 2 |
| 10G support | No |
| Link aggregation | Yes |
| Rate limiting | Yes |
| VLAN support | Yes |
| Number of VLANs | 4093 |
| Switching capacity | 24 Gbit/s |
| Store-and-forward | Yes |
| DHCP features | DHCP Option 82, DHCP relay, DHCP server, DHCP snooping, DHCPv6 client, DHCPv6 relay, DHCPv6 server, DHCPv6 snooping |
| IGMP snooping | Yes |
| Loop protection | Yes |
| Authentication | MAC-based authentication |
| Multicast support | Yes |
| IPv6 multicast entries | 2000 |
| Form factor | 1U |
| LED indicators | PoE, Power, Status |
| Processor model | ARM Cortex-A9 |
| Internal memory | 2048 MB |
| Storage temperature (T-T) | -20 – 70 °C |
| Non-operating altitude | 0 – 3000 m |
| Width | 440 mm |
| Height | 43.2 mm |
| User guide | Yes |