Signagelive
Signagelive is a digital signage software that provides your customers with choice and is built for scale. A 100% channel-driven global company with years of API-first development, Signagelive gives everything resellers need to grow their customer networks. Ideal for enterprises and organisations requiring a secure digital signage solution, Signagelive offer comprehensive support and services to help your customer achieve your goals. A tried and trusted partner, they now power digital signage for companies across 89 countries.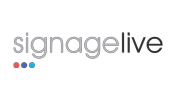 Why we work with Signagelive
Industry leader in digital signage management.
Channel focussed to protect our reseller partners investments.
Meets all security and regulatory requirements.
Easily integrates with existing content and business data.
So much more than just a distributor
Solstice AV offers a wrap-around service offering, with unmatched pre-sales, installation and after-care.