Sapphire Smart Move 2030 x 1268mm 16:10 Format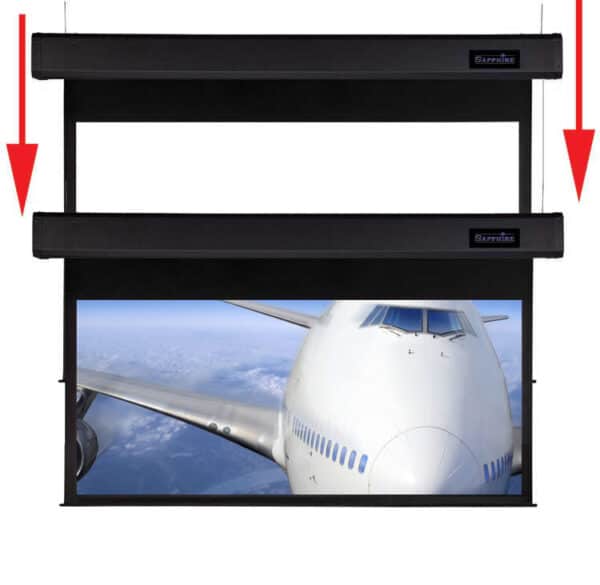 Solstice AV Code:

SSM200RADWSF-10
Sapphire AV SSM200RADWSF-10, Motorized, 2.41 m (95″), 2.03 m, 110.7 cm, 16:10, Matte White
Product Details
THIS SCREEN HAS AN INBUILT DUAL MOTOR THAT OPERATES THE CASE AND HOIST SEPARATELY WITH USING ONLY ONE REMOTE CONTROL, MAKING THIS THE PERFECT SOLUTION FOR HIGH CEILING APPLICATIONS SUCH AS CHURCHES, SCHOOL HALLS, AUDITORIUMS AND THEATRES.
Fabric specifications:
Sapphire's matt white fabric is composed of triple ply fibreglass laminate which helps prevent wrinkles and waves. The screen fabric consists of a special material that helps prevent the loss of light, making it compatible with non short throw projectors. Our screen fabrics are designed to be fire, water, and mould resistant and can be cleaned if necessary. The top layer of the fabric has microdots that are made with PVC technology that helps create the best possible reflection.
The 1.1 gain reflects the same amount of light back that the projector produces achieving a true cinema experience.
The back of the fabric is completely black enabling you to put this in front of a window.
Technical Spec
| | |
| --- | --- |
| Diagonal | 2.41 m (95") |
| Viewable screen height (H) | 110.7 cm |
| Drive type | Motorized |
| Frequency range | 868 Hz |
| Format | Wide |
| Screen gain | 1.1 |
| Country of origin | China |
| Mounting type | Ceiling |
| Black drop | 20 cm |
| Product colour | Black |
| Material | Aluminium |
| Input voltage | 230 V |
| Width | 2327 mm |
| Height | 173 mm |
| Dimensions folded (WxDxH) | 2327 x 132 x 173 mm |
| Package width | 2639 mm |
| Package height | 203 mm |
| UN number | WW/BA0104WV |
| Batteries included | Yes |
| Number of battery cells | 2 |
| Master (outer) case length | 2639 mm |
| Master (outer) case height | 203 mm |
| Pallet gross weight | 555 kg |
| Pallet gross width | 100 cm |
| Minimum order quantity | 1 pc(s) |
| Products per pallet layer | 5 pc(s) |
| Products per pallet (UK) | 15 pc(s) |
| Pallet length (UK) | 2.64 m |
| Pallet height (UK) | 90 cm |
| Shipping (inner) case width | 26.3 cm |
| Native aspect ratio | 16:10 |
| Viewable screen width (W) | 2.03 m |
| Diagonal (metric) | 241.3 cm |
| Remotely operated | Yes |
| Screen surface | Matte White |
| Tensioned screen | No |
| Viewing angle | 160° |
| Certification | CE, ROHS |
| Black backing | Yes |
| Borders | 5 cm, Yes |
| Easy to install | Yes |
| Case colour | Black |
| Power | 370 W |
| Input frequency | 50/60 Hz |
| Depth | 132 mm |
| Weight | 34.3 kg |
| Quantity per pack | 1 pc(s) |
| Package depth | 263 mm |
| Package weight | 37 kg |
| Remote control included | Yes |
| Battery weight | 11.5 g |
| Master (outer) case width | 263 mm |
| Products per pallet | 15 pc(s) |
| Pallet gross length | 2.64 m |
| Pallet gross height | 90 cm |
| Pallet weight (UK) | 555 kg |
| Pallet width (UK) | 100 cm |
| Harmonized System (HS) code | 90106000 |