Sapphire Room Control System 7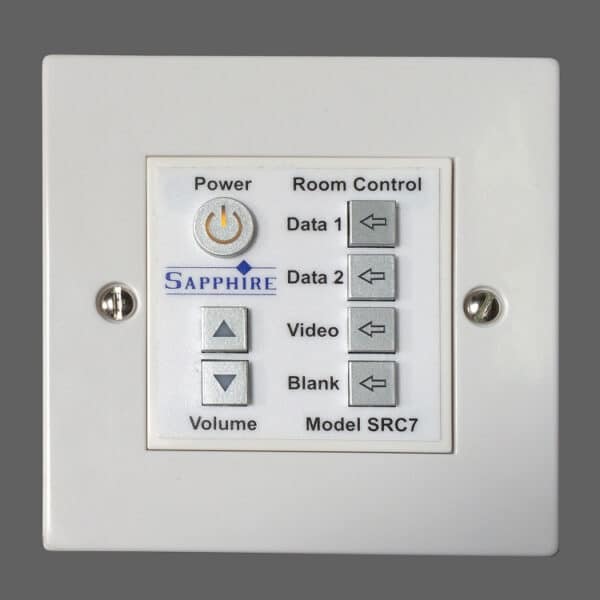 Sapphire AV SRC7, Control unit, Sapphire, Black, Grey, Wired
Product Details
his is not just another control system we believe it is a first as it will come supplied as a "Plug and Play" system,
If you order a Sapphire product – be that a screen and or a projector lift. Tell us what projector you are going to use and we will program and send out all you need ready programmed.
The technical specs are:-
2 x RS232 port,
one IR emitter
two close contact.
Benefits to you are:-
Power to the breakout box in the ceiling means no unsightly plug reducing voltage that has to go into the back of a dado trunking and less chance of the users turning off the power by mistake. Power to the panel is via the supplied 10m long RJ45lead.
As long as you tell us what projector you are using with this we will program the RS232 for you and supply a lead or around 2M from the breakout box to a serial female to connect to your projector (You need to ensure that your projector has this connection – most have).
Depending on the screen we will supply either a RJ12 to RJ12 lead to plug into the screen or an RJ12 plug to connect to the break out box and marked bare ends to push into the orange and grey connectors in our control boxes.
If you use a Sapphire projector lift then we will supply a standard 5M – RJ45 patch lead that you simply plug in. The system is intelligent in that it will not retract the projector lift until after the projector has completed it's cooling cycle.
Plug in power up and press the button all your devices will work together.
Programming yourself
You may download the software free of charge from the download link below. It is very easy to input any RS232 codes you wish.
If you want to use the closed contact option with any other make of screen then this will work as we can supply a lead with the common, drop and retract marked for easy connection. If you have a screen with four core wire and wish to connect to this then you can buy a Sapphire RFR packs to replace the control box on your screen. It will then work with our system.
Technical Spec
| | |
| --- | --- |
| Product type | Control unit |
| Product colour | Black, Grey |
| Brand compatibility | Sapphire |
| Connectivity technology | Wired |