Sapphire Rapid Fold Rear 2m 4:3 Format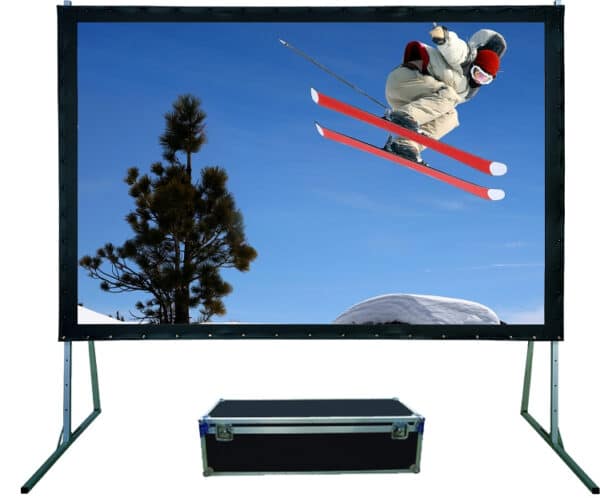 Solstice AV Code:

SFFS203RP
Sapphire AV SFFS203RP, 2.54 m (100″), 2.03 m, 152.4 cm, 4:3, Rear projection, Tensioned screen
Product Details
OUR RAPID FOLD RANGE IS THE PERFECT PORTABLE AND HEIGHT ADJUSTABLE SOLUTION FOR ANY VENUE. THERE ARE NO PARTS TO INSTALL AND NO TOOLS REQUIRED.
Fabric specifications:
This rear projection fabric features a transparent material for rear projection applications.The material is grey opaque which helps achieve a very high level of contrast as well as a low reflection for ambient light.
Technical Spec
| | |
| --- | --- |
| Diagonal | 2.54 m (100") |
| Viewable screen height (H) | 152.4 cm |
| Diagonal (metric) | 254 cm |
| Screen surface | Rear projection |
| Tensioned screen | Yes |
| Viewing angle | 160° |
| Certification | ROHS |
| Frame type | Folding frame |
| Borders | 8.5 cm, Yes |
| Easy to install | Yes |
| Case colour | Aluminium |
| Width | 2202 mm |
| Height | 1694 mm |
| Dimensions folded (WxDxH) | 2202 x 32 x 1694 mm |
| Package width | 1100 mm |
| Package height | 320 mm |
| Master (outer) case width | 335 mm |
| Products per pallet | 4 pc(s) |
| Pallet gross length | 120 cm |
| Pallet gross height | 64 cm |
| Pallet weight (UK) | 178 kg |
| Pallet width (UK) | 100 cm |
| Shipping (inner) case width | 33.5 cm |
| Native aspect ratio | 4:3 |
| Viewable screen width (W) | 2.03 m |
| Format | Video |
| Screen gain | 2.5 |
| Country of origin | China |
| Mounting type | Floor |
| Black drop | 8.5 cm |
| Product colour | Grey |
| Material | Aluminium |
| Depth | 32 mm |
| Weight | 24.5 kg |
| Quantity per pack | 1 pc(s) |
| Package depth | 335 mm |
| Package weight | 44.5 kg |
| Master (outer) case length | 1100 mm |
| Master (outer) case height | 320 mm |
| Pallet gross weight | 178 kg |
| Pallet gross width | 100 cm |
| Minimum order quantity | 1 pc(s) |
| Products per pallet layer | 2 pc(s) |
| Products per pallet (UK) | 4 pc(s) |
| Pallet length (UK) | 120 cm |
| Pallet height (UK) | 64 cm |
| Harmonized System (HS) code | 9010600000 |