Sapphire Fixed Frame Woven 2346 x 1319mm 16:9 Format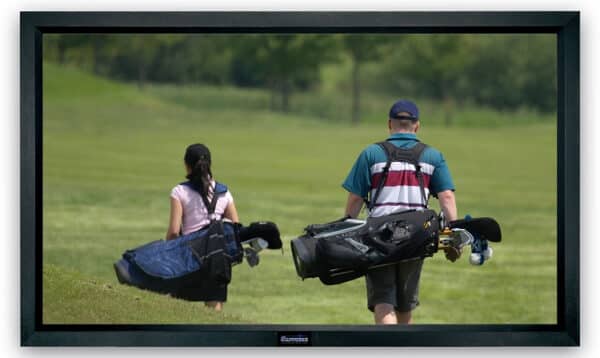 Solstice AV Code:

SFSC234AT
Sapphire AV SFSC234AT, Manual, 2.69 m (106″), 2.34 m, 132 cm, 16:9, Matte White
Product Details
Sapphire Woven Acoustic Transparent Fixed Frame Projection Screen.
THIS ACOUSTICALLY TRANSPARENT FIXED FRAME PROJECTION SCREEN IS THE PERFECT SOLUTION FOR DEDICATED APPLICATIONS AND DESIGNED TO GO IN FRONT OF SPEAKERS. YOU WILL ACHIEVE THE ULTIMATE CINEMA EXPERIENCE IN THE COMFORT OF YOUR OWN HOME.
Perfect for dedicated applications.
Woven fabric, perfect for positioning speakers behind to create a cinematic effect.
This screen is ideal for Ultra/short throw projectors.
8cm black velvet frame all around.
Front projection.
0.8 gain.
This screen is perfectly flat due to the tension creating a flawless picture.
Rail mounting brackets for easy installation.
Excellent Quality – We stand by the quality of our products by offering an outstanding 3 year warranty.
Technical Spec
| | |
| --- | --- |
| Diagonal | 2.69 m (106") |
| Viewable screen height (H) | 132 cm |
| Drive type | Manual |
| Screen surface | Matte White |
| Tensioned screen | Yes |
| Viewing angle | 160° |
| Mounting type | Wall |
| Black backing | No |
| Borders | 8 cm, Yes |
| Easy to install | Yes |
| Case colour | Black |
| Width | 1489 mm |
| Height | 2506 mm |
| Dimensions folded (WxDxH) | 1489 x 35 x 2506 mm |
| Package width | 2632 mm |
| Package height | 210 mm |
| Remote control included | No |
| Master (outer) case width | 200 mm |
| Products per pallet | 25 pc(s) |
| Pallet gross length | 2.63 m |
| Pallet gross height | 140 cm |
| Pallet weight (UK) | 507.5 kg |
| Pallet width (UK) | 100 cm |
| Harmonized System (HS) code | 9010600000 |
| Native aspect ratio | 16:9 |
| Viewable screen width (W) | 2.34 m |
| Diagonal (metric) | 269 cm |
| Remotely operated | No |
| Format | HDTV |
| Screen gain | 0.8 |
| Country of origin | China |
| Frame type | Fixed frame |
| Black drop | 8 cm |
| Product colour | Black |
| Material | Fabric |
| Depth | 35 mm |
| Weight | 12.5 kg |
| Quantity per pack | 1 pc(s) |
| Package depth | 200 mm |
| Package weight | 20.3 kg |
| Manual | Yes |
| Master (outer) case length | 2632 mm |
| Master (outer) case height | 210 mm |
| Pallet gross weight | 507.5 kg |
| Pallet gross width | 100 cm |
| Minimum order quantity | 1 pc(s) |
| Products per pallet layer | 5 pc(s) |
| Products per pallet (UK) | 25 pc(s) |
| Pallet length (UK) | 2.63 m |
| Pallet height (UK) | 140 cm |
| Shipping (inner) case width | 20 cm |