Sapphire Fixed Frame Slim Bezel 2656 x 1494mm 16:9 Format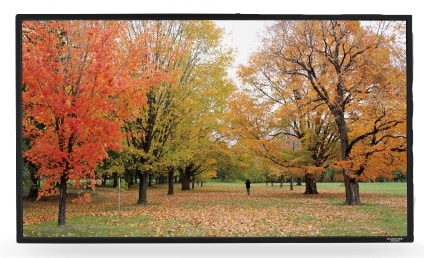 Solstice AV Code:

SFSC266-SB
Sapphire AV SFSC266-SB, Manual, 3.07 m (121″), 2.66 m, 149.4 cm, 16:9, Matte White
Product Details
Sapphire Slim Bezel Fixed Frame Front Projection Screen.
THIS FIXED FRAME SCREEN IS THE PERFECT SOLUTION FOR A DEDICATED APPLICATION WITH AN ULTRA SLIM STYLISH BLACK VELVET FRAME TO ACHIEVE A SOPHISTICATED LOOK. THE SOLID STRUCTURE AND TENSIONING SYSTEM ENSURES THAT THIS SCREEN IS ALWAYS PERFECTLY FLAT MAKING THIS THE IDEAL SCREEN FOR ULTRA/SHORT THROW PROJECTORS.
Perfect for dedicated applications.
This screen is ideal for Ultra/short throw projectors.
3cm black velvet frame all around.
Front projection.
1:1 gain.
This screen is perfectly flat due to the tension creating a flawless picture.
Rail mounting brackets for easy installation.
Technical Spec
| | |
| --- | --- |
| Diagonal | 3.07 m (121") |
| Viewable screen height (H) | 149.4 cm |
| Drive type | Manual |
| Screen surface | Matte White |
| Tensioned screen | Yes |
| Viewing angle | 160° |
| Mounting type | Wall |
| Black backing | Yes |
| Borders | 3.5 cm, Yes |
| Easy to install | Yes |
| Case colour | Black |
| Width | 2726 mm |
| Height | 1564 mm |
| Dimensions folded (WxDxH) | 2726 x 35 x 1564 mm |
| Package width | 2942 mm |
| Package height | 210 mm |
| Remote control included | No |
| Master (outer) case width | 210 mm |
| Products per pallet | 25 pc(s) |
| Pallet gross length | 2.94 m |
| Pallet gross height | 150 cm |
| Pallet weight (UK) | 570 kg |
| Pallet width (UK) | 100 cm |
| Harmonized System (HS) code | 9010600000 |
| Native aspect ratio | 16:9 |
| Viewable screen width (W) | 2.66 m |
| Diagonal (metric) | 307 cm |
| Remotely operated | No |
| Format | HDTV |
| Screen gain | 1.1 |
| Country of origin | China |
| Frame type | Fixed frame |
| Black drop | 3.5 cm |
| Product colour | Black |
| Material | PVC |
| Depth | 35 mm |
| Weight | 14.2 kg |
| Quantity per pack | 1 pc(s) |
| Package depth | 210 mm |
| Package weight | 22.8 kg |
| Manual | Yes |
| Master (outer) case length | 2942 mm |
| Master (outer) case height | 210 mm |
| Pallet gross weight | 570 kg |
| Pallet gross width | 100 cm |
| Minimum order quantity | 1 pc(s) |
| Products per pallet layer | 5 pc(s) |
| Products per pallet (UK) | 25 pc(s) |
| Pallet length (UK) | 2.94 m |
| Pallet height (UK) | 150 cm |
| Shipping (inner) case width | 21 cm |