Sapphire Electric Woven Tab Tension 3010 x 1693mm 16:9 Format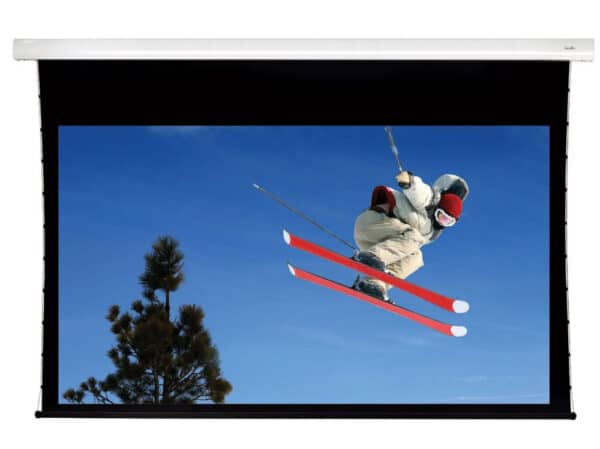 Solstice AV Code:

SETTS300WSF-AW-WOVEN
Sapphire AV SETTS300WSF-AW-WOVEN, Motorized, 3.45 m (136″), 3.01 m, 169.3 cm, 16:9, Matte White
Product Details
IF YOU ARE LOOKING FOR A HIGH END PROJECTION SCREEN WITHOUT THE PREMIUM PRICE THIS STYLISH ACOUSTIC TAB TENSION SCREEN WILL BE A FANTASTIC ADDITION TO YOUR SET UP.
THIS SCREEN HAS WOVEN FABRIC AND IS DESIGNED TO GO IN FRONT OF SPEAKERS.
Fabric specifications:
This fantastic woven creation has 92000 micro holes per square feet, this results in an outstanding sound transparency. The unique woven structure is designed to be 4K compatible.
Technical Spec
| | |
| --- | --- |
| Diagonal | 3.45 m (136") |
| Viewable screen height (H) | 169.3 cm |
| Drive type | Motorized |
| Screen surface | Matte White |
| Tensioned screen | Yes |
| Viewing angle | 160° |
| Certification | CE, ROHS |
| Black drop | 40 cm |
| Product colour | White |
| Material | Aluminium |
| Input voltage | 230 V |
| Width | 3498 mm |
| Height | 143 mm |
| Dimensions folded (WxDxH) | 3498 x 135 x 143 mm |
| Package width | 3936 mm |
| Package height | 197 mm |
| UN number | WW/BA0104WV |
| Batteries included | Yes |
| Number of battery cells | 2 |
| Master (outer) case length | 3936 mm |
| Master (outer) case height | 197 mm |
| Pallet gross weight | 583.5 kg |
| Pallet gross width | 583.5 m |
| Minimum order quantity | 1 pc(s) |
| Products per pallet layer | 5 pc(s) |
| Products per pallet (UK) | 15 pc(s) |
| Pallet length (UK) | 3.94 m |
| Pallet height (UK) | 60 cm |
| Shipping (inner) case width | 20.8 cm |
| Native aspect ratio | 16:9 |
| Viewable screen width (W) | 3.01 m |
| Diagonal (metric) | 345.44 cm |
| Remotely operated | Yes |
| Format | HDTV |
| Screen gain | 0.8 |
| Country of origin | China |
| Mounting type | Ceiling/wall |
| Borders | 10 cm, Yes |
| Easy to install | Yes |
| Case colour | White |
| Power | 103.5 W |
| Input current | 0.45 A |
| Depth | 135 mm |
| Weight | 33.4 kg |
| Quantity per pack | 1 pc(s) |
| Package depth | 208 mm |
| Package weight | 38.9 kg |
| Remote control included | Yes |
| Battery weight | 11.5 g |
| Master (outer) case width | 208 mm |
| Products per pallet | 15 pc(s) |
| Pallet gross length | 3.94 m |
| Pallet gross height | 60 cm |
| Pallet weight (UK) | 583.5 kg |
| Pallet width (UK) | 100 cm |
| Harmonized System (HS) code | 90106000 |