Sapphire Electric Screen 2703 x 2027mm 4:3 Format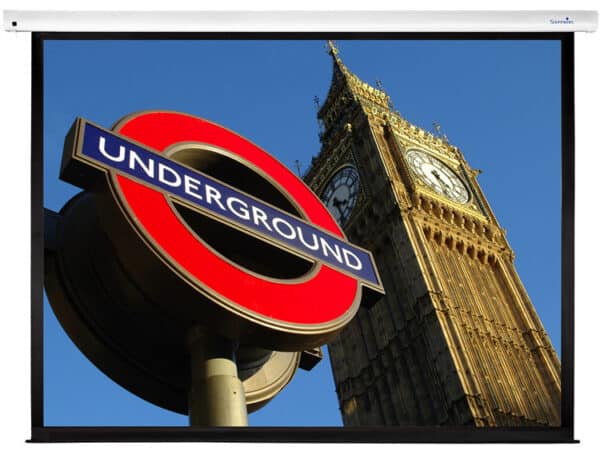 Solstice AV Code:

SEWS270RBV-ATR
Sapphire AV Electric Screen with Trigger 2700mm x 2027mm, Motorized, 3.38 m (133″), 2.03 m, 2.7 m, 4:3, Matte White
Product Details
There is a standard 10M lead to connect to your projector to automate the screen drop and retraction via 12V trigger. This product also has built in RS232 and zero volt contact closure so you can control the screen with a control system. There is an optional zero voltage wall switch.
This screen comes with a 2.7m power lead from the back left of the screen (when viewed from the front) and terminates in a standard UK power plug.
We also have options to control your screen remotely. You will find some of the options suggested below.
* Complete with Infra Red remote control , Extender and 12V trigger input on screen
* 1:1 gain triple laminated glass-fibre white screen fabric
Technical Spec
| | |
| --- | --- |
| Diagonal | 3.38 m (133") |
| Viewable screen height (H) | 2.7 m |
| Drive type | Motorized |
| Screen surface | Matte White |
| Tensioned screen | No |
| Viewing angle | 160° |
| Certification | CE, ROHS |
| Black backing | Yes |
| Borders | 5 cm, Yes |
| Easy to install | Yes |
| Case colour | White |
| Power | 103.5 W |
| Input current | 0.45 A |
| Depth | 120 mm |
| Weight | 14.7 kg |
| Quantity per pack | 1 pc(s) |
| Package depth | 200 mm |
| Package weight | 18.1 kg |
| Remote control included | Yes |
| Batteries included | Yes |
| Number of battery cells | 2 |
| Master (outer) case length | 3330 mm |
| Master (outer) case height | 200 mm |
| Pallet gross weight | 543 kg |
| Pallet gross width | 100 cm |
| Minimum order quantity | 1 pc(s) |
| Products per pallet layer | 5 pc(s) |
| Products per pallet (UK) | 30 pc(s) |
| Pallet length (UK) | 3.33 m |
| Pallet height (UK) | 120 cm |
| Shipping (inner) case width | 20 cm |
| Native aspect ratio | 4:3 |
| Viewable screen width (W) | 2.03 m |
| Diagonal (metric) | 337.82 cm |
| Remotely operated | Yes |
| Format | Video |
| Screen gain | 1.1 |
| Country of origin | China |
| Mounting type | Ceiling/wall |
| Black drop | 8 cm |
| Product colour | White |
| Material | Aluminium |
| Input voltage | 230 V |
| Width | 2953 mm |
| Height | 126 mm |
| Dimensions folded (WxDxH) | 2953 x 120 x 126 mm |
| Package width | 3330 mm |
| Package height | 200 mm |
| UN number | WW/BA0104WV |
| Manual | No |
| Battery weight | 11.5 g |
| Master (outer) case width | 200 mm |
| Products per pallet | 30 pc(s) |
| Pallet gross length | 3.33 m |
| Pallet gross height | 120 cm |
| Pallet weight (UK) | 543 kg |
| Pallet width (UK) | 100 cm |
| Harmonized System (HS) code | 90106000 |