Sapphire Drapery Kit 2.4m 16:9 Format In Black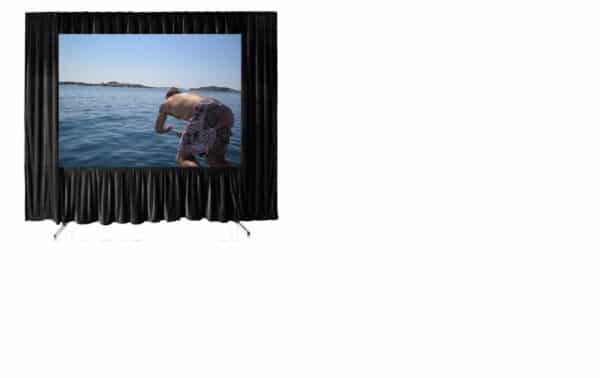 Solstice AV Code:

SFFS244WSFDrapekit-Black
Sapphire AV SFFS244WSFDrapekit-Black, Black, Velvet, 1110 mm, 400 mm, 115 mm, 44.5 kg
Product Details
SAPPHIRE DRAPERY KIT
This stylish Drapery kit will create the perfect finish to your rapid fold screen.
This kit comes complete with the pelmet, curtains, skirt and aluminium frame.
Luxirious soft finish made out of 8% Lycra and 92% Polyester.
Technical Spec
| | |
| --- | --- |
| Product colour | Black |
| Remotely operated | No |
| Package depth | 400 mm |
| Package weight | 44.5 kg |
| Products per pallet | 4 pc(s) |
| Master (outer) case height | 115 mm |
| Pallet gross length | 120 cm |
| Pallet gross height | 64 cm |
| Pallet weight (UK) | 178 kg |
| Pallet width (UK) | 100 cm |
| Harmonized System (HS) code | 9010600000 |
| Material | Velvet |
| Package width | 1110 mm |
| Package height | 115 mm |
| Country of origin | China |
| Master (outer) case length | 1100 mm |
| Master (outer) case width | 400 mm |
| Pallet gross weight | 178 kg |
| Pallet gross width | 100 cm |
| Minimum order quantity | 1 pc(s) |
| Products per pallet layer | 2 pc(s) |
| Products per pallet (UK) | 4 pc(s) |
| Pallet length (UK) | 110 cm |
| Pallet height (UK) | 64 cm |
| Shipping (inner) case width | 40 cm |