Sapphire Ambient Light Fixed Screen 100 inch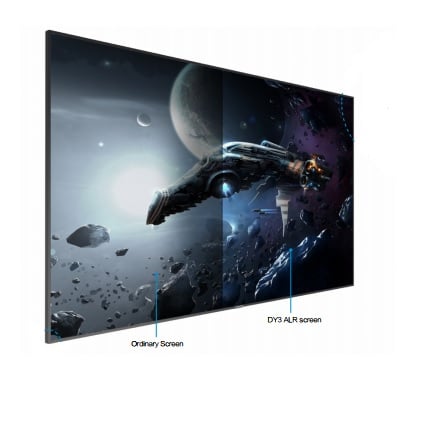 Solstice AV Code:

SALFS221WSF
Sapphire AV SALFS221WSF, Manual, 2.54 m (100″), 2.21 m, 125 cm, 16:9, Tensioned screen
Product Details
SAPPHIRE AMBIENT LIGHT FIXED FRAME SCREEN.
The ambient light technology has arrived and is the perfect solution for bright or natural light environments. With a similar picture to flat panel TV's, this Sapphire 100inch diagonal ambient light fixed frame screen provides a colourful and vibrant image to enhance your viewing experience at a much larger scale. The fabric has been designed to reflect the projected image, promoting the deep black levels and vibrant colours while absorbing the ambient light to prevent the image from fading. The tensioned structure ensures the fabric is perfectly flat creating a flawless cinematic experience.
Finished with a black velvet frame, the Sapphire ambient light fixed frame screen creates the ultimate viewing experience with a stylish, modern look. The perfect and neat solution for any dedicated home cinema or games room, day or night! Making TV, Gamers and Sports fanatics a dream come true!
The beauty of this screen is that it's not only designed for home cinema, this can be used for other applications such as Corporate, Board rooms, Pubs and Clubs.
This Super Stylish Screen is currently suitable for use with the following projectors. The projector must be placed at the bottom of the screen no more than 30cm away from the screen.
Technical Spec
| | |
| --- | --- |
| Diagonal | 2.54 m (100") |
| Viewable screen height (H) | 125 cm |
| Drive type | Manual |
| Format | HDTV |
| Screen gain | 0.42:1 |
| Country of origin | China |
| Frame type | Fixed frame |
| Black drop | 1.25 cm |
| Product colour | Black, Grey |
| Material | Polyethylene terephthalate (PET) |
| Depth | 35 mm |
| Weight | 13 kg |
| Quantity per pack | 1 pc(s) |
| Package depth | 257 mm |
| Package weight | 15 kg |
| Manual | Yes |
| Master (outer) case length | 1390 mm |
| Master (outer) case height | 207 mm |
| Pallet gross weight | 300 kg |
| Pallet gross width | 100 cm |
| Minimum order quantity | 1 pc(s) |
| Products per pallet layer | 4 pc(s) |
| Products per pallet (UK) | 20 pc(s) |
| Pallet length (UK) | 139 cm |
| Pallet height (UK) | 120 cm |
| Shipping (inner) case width | 25.7 cm |
| Native aspect ratio | 16:9 |
| Viewable screen width (W) | 2.21 m |
| Diagonal (metric) | 254 cm |
| Remotely operated | No |
| Tensioned screen | Yes |
| Viewing angle | 160° |
| Mounting type | Wall |
| Black backing | Yes |
| Borders | Yes, 1.25 cm |
| Easy to install | Yes |
| Case colour | Black |
| Width | 2239 mm |
| Height | 1270 mm |
| Dimensions folded (WxDxH) | 2239 x 35 x 1270 mm |
| Package width | 1390 mm |
| Package height | 207 mm |
| Remote control included | No |
| Master (outer) case width | 257 mm |
| Products per pallet | 20 pc(s) |
| Pallet gross length | 139 cm |
| Pallet gross height | 120 cm |
| Pallet weight (UK) | 300 kg |
| Pallet width (UK) | 100 cm |
| Harmonized System (HS) code | 9010600000 |