Philips Q-line 43″ Direct LED 4K Display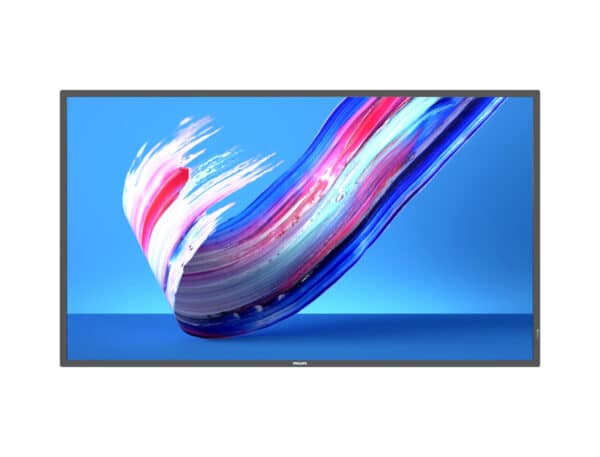 Solstice AV Code:

43BDL3650Q/00
Philips 43BDL3650Q, Digital signage flat panel, 109.2 cm (43″), LCD, 3840 x 2160 pixels, Wi-Fi, 18/7
Product Details
Stand out from the crowd
Inform and enthral with a Philips Q-Line 4K Ultra HD digital display. This reliable, easy-to-install, Android powered signage solution is Wave-ready for remote management, putting you in full control, any time, anywhere.
Connect and control your content via the cloud
Connect and control your content via the cloud with the integrated HTML5 browser. Using the Chromium based browser, design your content online and connect a single display, or your complete network. Show content in both landscape and portrait mode, with fullHD resolution. Simply connect the display to the internet using WiFi or with an RJ45 cable, and enjoy your own created playlists.
FailOver. Ensure your display never goes blank
Critical for demanding commercial applications, FailOver is a revolutionary technology that automatically plays back-up content on screen in the unlikely event of an input source or application failure. Simply select a primary input connection and a FailOver connection and you are ready for instant content protection.
Easily schedule content from USB or internal memory
Easily schedule content to play from USB or from internal memory. Your Philips Professional Display will wake from standby to play the content you want, and then return to standby once playback is done.
Optional Interact for wireless screen share
Wirelessly screen share using your existing Wi-Fi network to instantly and securely connect devices, or use our optional HDMI Interact dongle to cast directly onto the screen without connecting into the secured network.
Android SoC processor. Native and web apps
Powered by our Android 10 SoC platform, these hard-working Philips professional displays are optimised for native Android apps, and you can install web apps directly onto the display too. Flexible and secure, ensuring display specs stay up to the moment for longer.
Catch the Wave for revolutionary results
Unlock the power, versatility and intelligence inside your Philips Q-Line displays remotely with Wave. This evolutionary cloud platform puts you fully in control, with simplified installation and set-up, monitoring and controlling displays, upgrading firmware, managing playlists and setting power schedules. Saving you time, energy and environmental impact.
Technical Spec
| | |
| --- | --- |
| Weight | 14.15 kg |
| Dimensions | 106.5 × 12.5 × 69.5 cm |
| Display diagonal | 109.2 cm (43") |
| Display resolution | 3840 x 2160 pixels |
| HD type | Full HD |
| Panel type | ADS |
| LED backlighting type | Direct-LED |
| Response time | 8 ms |
| Contrast ratio (dynamic) | 500000:1 |
| Viewing angle, vertical | 178° |
| Pixel pitch | 0.2451 x 0.2451 mm |
| Native refresh rate | 60 Hz |
| HDMI ports quantity | 2 |
| USB port | Yes |
| Wi-Fi | Yes |
| DVI-I ports quantity | 1 |
| USB version | 2.0/3.2 Gen 1 (3.1 Gen 1) |
| RS-232C | Yes |
| Card reader integrated | Yes |
| Built-in speaker(s) | Yes |
| RMS rated power | 20 W |
| Product colour | Black |
| VESA mounting | Yes |
| Panel mounting interface | 200 x 200 mm |
| Bezel width (side) | 1.39 cm |
| Purpose | Universal |
| Power consumption (typical) | 96 W |
| Power consumption (max) | 170 W |
| AC input voltage | 100-240 V |
| Energy efficiency scale | A to G |
| Built-in processor | Yes |
| Processor family | ARM Cortex |
| Processor cores | 4 |
| Internal storage capacity | 16 GB |
| Display width | 973 mm |
| Display height | 561 mm |
| Remote control included | Yes |
| Cables included | AC, IR sensor, RS-232 |
| Audio input | 1 |
| Display technology | LCD |
| Display brightness | 400 cd/m² |
| Touchscreen | No |
| LED backlight | Yes |
| Native aspect ratio | 16:9 |
| Contrast ratio (typical) | 1200:1 |
| Viewing angle, horizontal | 178° |
| Display number of colours | 1.07 billion colours |
| Display diagonal (metric) | 108 cm |
| Haze rate | 2% |
| DVI port | Yes |
| Ethernet LAN | Yes |
| HDMI version | 2.0 |
| USB ports quantity | 3 |
| Ethernet LAN (RJ-45) ports | 1 |
| Infrared data port | Yes |
| Compatible memory cards | MicroSD (TransFlash) |
| Number of built-in speakers | 2 |
| Product design | Digital signage flat panel |
| Placement supported | Indoor |
| Orientation | Horizontal/Vertical |
| Bezel width (bottom) | 1.39 cm |
| Bezel width (top) | 1.39 cm |
| On Screen Display (OSD) | Yes |
| Power consumption (standby) | 0.5 W |
| AC input frequency | 50-60 Hz |
| Computer system | Yes |
| Computer system type | System on Chip (SoC) |
| Processor architecture | ARM Cortex-A55 |
| Internal memory | 3 GB |
| Operating system installed | Android 10 |
| Display depth | 63.5 mm |
| Display weight | 11.3 kg |
| Batteries included | Yes |
| Operating temperature (T-T) | 0 – 40 °C |
| Storage temperature (T-T) | -20 – 60 °C |
| Quick start guide | Yes |
| Audio output | 1 |