Optoma ZH350 DLP Projector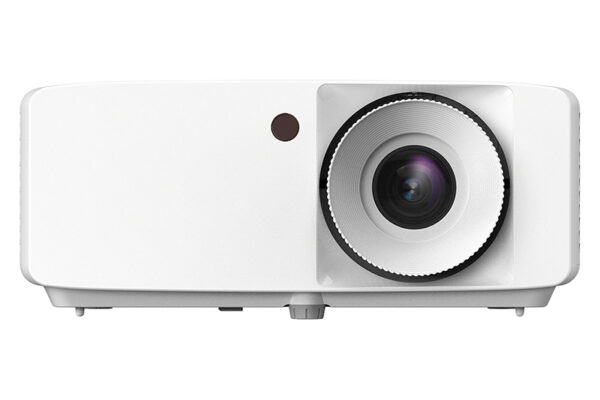 Solstice AV Code:

E9PD7KK01EZ1
Optoma ZH350, 3600 ANSI lumens, DLP, 1080p (1920×1080), 300000:1, 4:3, 16:10, 16:9, 0.8 – 10 m
Product Details
4K / HDR Compatible
Optoma ZH350 is capable to accept native 4K signals and compatible with HDR10.
High dynamic range (HDR) technology improves contrast ratio, brightness, and color depth on the display, delivers brighter whites and deeper black levels. It enhances the details and depth of field, making the images clearer and more realistic.
Optoma DURACORE Made for Environmental Sustainability
Designed with environmental friendliness in mind, Optoma is dedicated to providing eco-friendly, cost-effective, and reliable products, that bring better experiences to people all around the world. With the future-proofed laser technology, our products are energy-saving, mercury-free, and more economical.
Eco-friendly laser light source
With the latest laser technology and higher power conversion efficiency, the product saves up to 47% of power consumption compared with a lamp-based projector at similar capacity
Carbon Footprint Reduction
Projectors with the latest laser light source reduces 1265kg CO2e for 20,000 hours of usage, which can save about 1.8 acacia trees.
High power consumption and mercury pollution in traditional lamp-based projectors are gradually replaced with more reliable, mercury-free, and eco-friendly lamp-free laser projectors.
Maintenance Free & Economical
Laser projectors are durable with up to 30,000 hrs. life span (eco) and 24/7 operation, which save cost on the lamp replacements, and has a long-term lifespan for any professional applications.
Compact and Reliable
Designed with simplicity in mind, Optoma dedicates to minimizing the product size and optimizing the component to be compact yet reliable enough for daily use.
Replace the thermal module with the heatsink.
The latest phosphor wheel is optimized from 54mm to 47mm compared to the previous-gen.
Remove the LVPS and replace it with an power adapter, which is easily to be repaired and replaced.
Optimized Packaging
With compacter product size, comes reduced packaging size as well. While package size reduced by 47%, it allows doubled quantity of products to be carried in the same space. It also help reduce 41% of carbon footprint per unit, offering a more environmental friendly and cost-efficient logistics option.
Amazing Brightness & Colors
ZH350 is able to achieve maximum brightness with vibrant colors for presentation use. Optoma's specialized color calibration and adjusting technologies exceeds HDTV Rec. 709 standards to present the truest and the most accurate colors, for authentic, and in-depth storytelling images.
360° and portrait projection capability
Images can be projected over a full 360° range along the vertical axis, including reproduction on a ceiling or floor. This projector can also be placed in portrait mode for applications such as digital signage or for tall thin projection areas.
Full 3D
Optoma offers total immersion for 3D learning. This product brings topics to life and captures students' curiosity, letting teachers delve deeper into subject material like never before. It displays true 3D content from various 3D sources, including 3D Blu-ray Disc players, and 3D broadcastings.
Device Control by HDMI CEC Link
When you connect HDMI CEC-compatible devices to the projector with HDMI cables, you can control them on the same power on or power off status using the HDMI Link feature. This lets one device or multiple devices in a group power on/off simultaneously.
Low Noise: Quieter than a Whisper
Only 27dB in ECO mode.
Quick start-up and shutdown
This projector features quick start-up and shutdown and reaches full brightness quickly. To maximise energy saving it also includes a 'pause projection' feature where the light source can be completely shut off. Unlike conventional lamp based projectors, the laser- light source requires minimal cool-down time.
Technical Spec
| | |
| --- | --- |
| Weight | 4.199999 kg |
| Dimensions | 15.5 × 28 × 40 cm |
| Projector brightness | 3600 ANSI lumens |
| Projector native resolution | 1080p (1920×1080) |
| Smart projector | No |
| Projection distance | 0.8 – 10 m |
| Uniformity | 75% |
| 3D vertical scan range | 50 – 85 Hz |
| Aperture range (F-F) | 2.5 – 2.67 |
| Zoom type | Manual |
| Throw ratio | 1.48-1.62:1 |
| Full HD | Yes |
| HDMI ports quantity | 2 |
| USB 2.0 ports quantity | 1 |
| Ethernet LAN | No |
| Card reader integrated | No |
| Noise level (economic mode) | 27 dB |
| RMS rated power | 15 W |
| Product type | Standard throw projector |
| Product colour | White |
| Power consumption (standby) | 0.5 W |
| AC input frequency | 50-60 Hz |
| Width | 274 mm |
| Height | 114 mm |
| Quantity per pack | 1 pc(s) |
| Projection technology | DLP |
| Contrast ratio (typical) | 300000:1 |
| Supported aspect ratios | 4:3, 16:10, 16:9 |
| Number of colours | 1.073 billion colours |
| Vertical scan range | 15.375 – 91.146 Hz |
| Light source type | Laser |
| Focal length range | 12.81 – 16.74 mm |
| Zoom capability | Yes |
| Zoom ratio | 1.1:1 |
| Analog signal format system | NTSC, PAL, SECAM |
| 3D | Yes |
| Supported video modes | 480i, 480p, 576i, 576p, 720p, 1080i, 1080p |
| DVI port | No |
| Serial interface type | RS-232 |
| Headphone outputs | 1 |
| Smart TV | No |
| Wi-Fi | No |
| Interactive | No |
| Built-in speaker(s) | Yes |
| Number of built-in speakers | 1 |
| Market positioning | Business |
| Power source | AC |
| Power consumption (max) | 140 W |
| AC input voltage | 100-240 V |
| Weight | 4.2 kg |
| Depth | 216 mm |
| Doesn't contain | Mercury |